This is my 1929 Ford Sport Coupe that I have owned for more than 60 years. It's a rare Dual Side Mount Deluxe Model. I did a ground up restoration of this car in 1955 when I was 16 years old. This taught me all the basics of automobile mechanics, and launched a lifelong love of cars.

Every part was disassembled, cleaned, painted, and reassembled with even more care than when it rolled off the assembly line 26 years before. It has a hand rubbed lacquer paint job with so many coats it will never need painting again.

It was completed during the summer of '55, and I switched off driving it and my '51 Ford Convertible to high School. The '51 is another story, and it's the only "keeper" I didn't' keep.

Today (except for the rumble seat occupant), the car looks exactly the same as it did when I completed the restoration in 1955 and still runs like new.

Model A Ford Club of America
'A' of the Day Twice - Then and Now

Click Images Below For Full Size Photo

..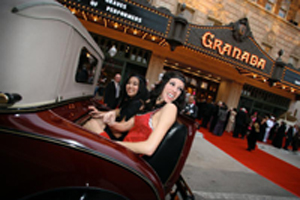 Santa Barbara's Historic Granada Theater
First Opened in 1924, And Again Recently After A $50,000,000.00 Remodel
My Model 'A' Was There To Celebrate