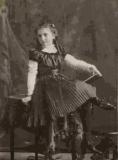 1900 Hollywood Age 12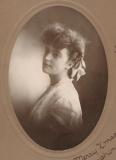 1904 Los Angeles Age 16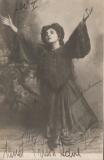 Genoa 1908 Debut in Faust
At Age 19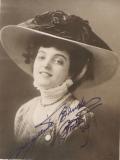 1909 Boston opera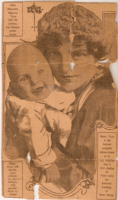 1913 With Baby Freddy
In The News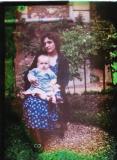 1914 Paris, Namara & son Freddy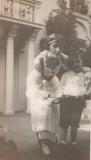 1918 Namara & son Freddy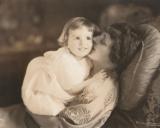 1918 Namara & daughter Peggy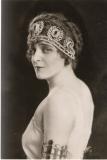 1919 Chicago Opera, Thais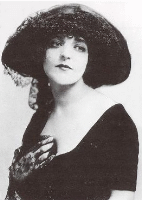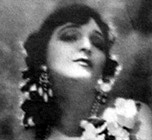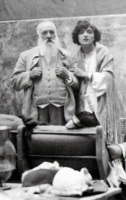 Namara & Monet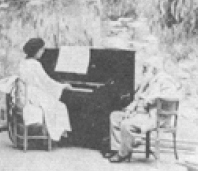 Namara Sings For Monet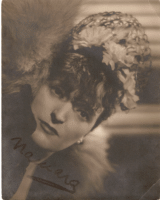 Namara At Age 64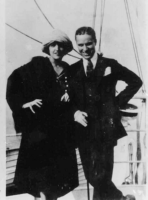 Namara & Charlie Chaplin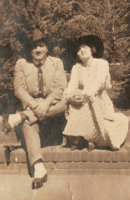 Namara & Enrico Caruso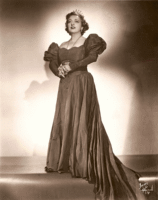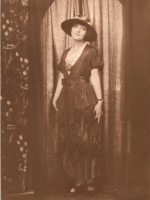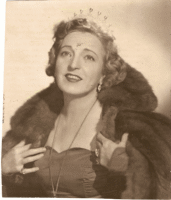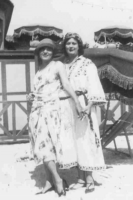 Namara & Isadora Duncan

My Father & His Mother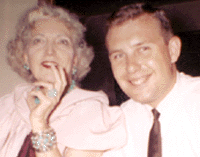 Namara and Me
New York 1961
Namara's Life & Career
November 19, 1888 Cleveland, Ohio - November 3, 1974 Marbella, Spain
An amazingly varied singer and actress whose career included Broadway musicals, opera, film roles, vocal recitals, radio and dramatic acting, Marguerite Evelyn Cecilia Banks was born in Cleveland, Ohio, on November 19, 1888, the only daughter of William A. Banks and Margaret McNamara Banks. Her mother had been a well-known and popular amateur singer in her native Ohio. In 1894, Marguerite's father relocated his business, the Wholesale Food Company of Catawba Island, Lake Erie, to Southern California, where, along with his brothers, he set up the California Fruit Trust. Marguerite was six years old when she and her family, including her younger brothers Stafford and Raymond, moved into large frame house near Kenwood and West Adams streets south of downtown Los Angeles.
A descendant on her father's side from Mayflower passengers John Alden and Priscilla Mullins, Marguerite's mother's family emigrated from Ireland to the United States in the 1840s and 50s during the Potato Famine.



SUNMAID RAISIN GIRL
Marguerite's father William Banks, a successful businessman, who had invented a new process for drying raisins began to deal extensively with the Sunmaid Company. He had a photograph taken of his daughter holding a basket of raisins, which gave Sunmaid the idea of using a girl's picture on their boxes. The company bought his photo and Marguerite became the first Sunmaid raisin girl.
HER VOICE FIRST NOTICED
Around the age of seven, Marguerite began to show remarkable prowess on the piano. She played in local bands and concerts, and at nine years old, composed a march that was later presented in Venice. When she was fifteen, her mother, a fine singer, recognized the fact that the girl had an unusual voice. She began vocal lessons with her mother. In 1907, she and her mother made a cylinder recording for Thomas Edison, singing the Flower Duet from the Delibes opera, Lakme.
Marguerite attended St. Vincent's Academy and Girls' Collegiate High School, where she was an active member of the drama and art clubs, and had her pen and ink sketches exhibited locally. She studied French and Italian.
A 1907 newspaper article describing Marguerite's coming out party praised her musical ability: "Miss Banks has a soprano voice of range and sweetness, but her most notable gift by far consists in her ability to capture the airy strains that flit across her mind, and to weave them into compositions."
OPERATIC DEBUT IN ITALY
Soon after her eighteenth birthday, she began a year of study at the Milan Conservatory, and was accompanied to Italy by her mother, eventually becoming the youngest prima donna ever to sing the role of Marguerite in Faust, making her debut at the Teatro Politeama in Genoa at the age of nineteen. The Cleveland News reported in 1908:
"Miss Marguerite Banks, daughter of Mr. and Mrs. W.A. Banks, who formerly resided in Cleveland, but who are at present living in Los Angeles, made her debut in Genoa, Italy recently as Marguerite in Faust, singing under the name of Marguerite Namara. Miss Banks went to Italy little more than a year ago. Her teacher there at the Milan Conservatory has been the well known Sebastiano Breda, and she will sing in her present Genoa engagement until September 10, principal roles in Faust, La Boheme, Tosca, Cavaleria Rusticana, Il Trovatore, and La Traviata."
BOSTON OPERA
She enjoyed a triumphal return to the U.S. to open with the Boston Opera. Henry Russell, its eccentric manager, had spent thousands of dollars on a massive campaign to promote the lovely American soprano with the Italian sounding name that he had counted on to open his fall, 1909 season. A 1913 Society Magazine article noted that Russell had been looking for, "a big sensation with which to open his opera house. What more could he ask for than a girl from the Golden West who had won the hearts of the most critical audiences in Italy?" In Bolton and Wodehouse and Kern, Lee Davis wrote:
Long-limbed, willowy, fiery, and blue-eyed, Marguerite Namara possessed not only a magnificent voice, but a unique, transfixing beauty. In an age when most operatic sopranos resembled stuffed sofas, she was a creature who could enhance a Ziegfeld staircase. All this was not lost on Henry Russell. He wasted no time in rolling out his casting couch. But he hadn't reckoned with Marguerite Namara's third and most striking trait: her fierce independence. Proud of her genius and protective of her honor, and not about to have either compromised, she not only rebuffed Henry Russell's advances; she paid him the supreme insult of marrying his assistant manager, Frederick H. Toye. Russell fired both soprano and manager in mid-season, but it mattered little to either. Frederick Henry Toye became not only Marguerite's husband but her manager, and would continue in the latter capacity until he died.
Married on January 10, 1910 at St. Patrick's Cathedral in New York, Marguerite began appearing under the name Madame Namara-Toye, and, later, under the name Marguerite Namara. She chose the exotic sounding stage name Namara as a tribute to her mother's maiden name of McNamara. Later in life, friends, family, and acquaintances would refer to her simply as Namara.
EUROPE AND ISADORA
An eastern concert tour followed, and then husband and wife returned to Europe in 1911 for a highly promoted tour. There, they made the acquaintance of Isadora Duncan, who was badly in need of a manager, and she and Namara struck up a close friendship that was to last until Isadora's death in 1927. Under Fred Toye's management, Isadora had great success performing in Paris at the Chatelet Theater. He took her and Namara on a tour of Russia, where they gave a performance for Tsar Nicholas II.
During this same time, Namara began training with the legendary Jean de Reszke and Manuel de Falla. In the France and Italy of the these early years, she moved in the same circles as the composer, Debussy; the poet-dramatist-political leader D'Annunzio, and the dramatic actress for whom he wrote, Eleanora Duse; the sculptor, Rodin; and many of the political figures of the time.
MOTHERHOOD
In 1913, Fred Toye, Namara, and Isadora returned to Los Angeles. Namara was expecting her first baby, and she wanted the child to be born in California near her parents. Isadora had received offers to perform in the U.S., and Frederick H. Toye became the first manager of the Los Angeles Symphony. My father, Frederick Namara Toye was born on June 26, 1913 in Los Angeles.
Within a year, my grandparents embarked for Paris, leaving their baby in the care of his maternal grandmother. He was to follow afterward. A June, 1914 Los Angeles Times article stated:
A 6,000 mile journey to join his mother in Paris for his first birthday is the record-breaking trip to be made by young Frederick Namara Toye, son of Madame Namara-Toye, Metropolitan prima donna, formerly Marguerite Banks of Los Angeles. "Come at once," read the cablegram from Paris, received today by Mrs. W.A. Banks of Hollywood, grandmother of the eleven month old traveler-to-be. So Frederick Namara Toye, aged eleven months, will start on Wednesday to join his famous mother in the French capital where she is coaching with Madame Melba. He will be accompanied by his grandmother and a nurse. Young Toye is probably the youngest globetrotter in the state. He will go direct to the beautiful palace on the Seine where his mother and father are the guests of Isadora Duncan, the classic dancer. Mr. Toye Senior, formerly manager of the Los Angeles Symphony Orchestra, is now manager of Miss Duncan's famous new Temple of the Dance, where she is a fashionable Parisienne.
With the advent of war in Europe, Namara spent her time as a pupil of the famous diva Madame Nellie Melba. She also consoled her friend Isadora, who had tragically lost her own two children in a drowning accident in the Seine in 1913. When the family could safely cross the Atlantic again for New York, in December, 1915, they traveled in a ship without lights, because of the threat of German U-boats.
BROADWAY DEBUT
Settled in Rye, New York, Namara was eager to try Broadway, though it was against her husband's recommendation, as he believed she should stay strictly with opera. Nevertheless, she began rehearsal for a fall opening in a Franz Lehar operetta, Alone at Last, written especially for her. Her costar was John Charles Thomas, and the show opened October 14, 1915 at the Shubert Theater. The New York press gave the show warm but not enthusiastic reviews, although there was great praise for Namara's "frail, flowerlike variety of beauty" and "brilliant voice."
"STOLEN MOMENTS" AND FRIENDSHIP WITH VALENTINO
Eager to work and interested in taking on something new, Namara made a motion picture, a silent melodrama called Stolen Moments, by the American Cinema Company directed by James Vincent. Already well known in the opera world, Namara was entitled to top billing in the picture, and my dad's sister Peggy received a small part as well. Costarring with her, and billed below her, was Rudolph Valentino, appearing for the very first time ever on any screen.
CONTRACT WITH OPERA COMIQUE, PARIS
A star of the Opéra Comique from 1922-25, Namara repeated the Thaïs role and all the lyric parts: Manon, La Traviata La Boheme, Tosca, and Carmen. The French press called her la rossignole californienne, the California nightingale. Of her performance as Mimi in La Boheme, the magazine La France wrote, "She has captivated the artistic circles of Paris. We are certain of her continued triumph."
TAKES PAINTING LESSONS FROM MONET
She took painting lessons from the nearly blind Claude Monet who she said, told her "you're born with what they all come here to learn." Much later, her landscapes and flower paintings were exhibited at the Bernheim Jeune Gallery in Paris and at the Architectural League in New York City.
Namara would often sing for him, both in Paris and at his estate in Giverny. "He was a real sauvage," she laughed. "He would order a grand piano sent and would make the men who brought it wait outside until I was through singing, then take it away again. He wouldn't trust it to the fingers of his grandchildren."
LIFE IN EUROPE IN THE ROARING TWENTIES
Enjoying great success, Namara was determined to remain in Europe with Peggy for the foreseeable future. The world in which the lovely diva of the Opéra Comique and her daughter moved included major figures such as Monet, Hemingway, Fitzgerald, Picasso, Debussy Gabriele D'Annunzio, Eleanora Duse, and, of course, always, Isadora Duncan. From King Albert of Belgium, she brought a large motorized trailer, one of the first of its kind in Europe, and took friends on trips to the French Riviera. Coty did the interior of the five-room, rosewood-lined trailer and filled the cushions with perfume.
In a 1926 letter, F. Scott Fitzgerald wrote:
Nobody was in Antibes this summer, except me, Zelda, the Valentinos, the Murphys, Mistinguet, Rex Ingram, Dos Passos, Alice Terry, the Macleishes, Charlie Brackett, Mause Kahn, Lester Murphy, Marguerite Namara, E. Oppenheimer, Mannes the violinist, Floyd Dell, Max and Crystal Eastman...Just the right place to rough it, an escape from the world.
HER MUSICAL INSTRUMENT
Namara's favorite instrument was a custom hand made spinet (called a virginal). The inside cover was autographed by all the famous luminaries of the day, among them Toscanini, Caruso, Rubenstein, Stravinsky, Heifetz, Rudolph Ganz, and the names she knew in the entertainment world, including Valentino, Chevalier, Chaplin, and Ramon Navarro, later one of her pupils. She was slightly annoyed when Stravinsky, so that his name would stand alone, pressed two of the strings apart and signed on the wooden base below. Then sculptor Boris Lovet Lorski repeated the trick and signed above Stravinsky, only twice as large. Signatures which cover the inside lid include almost every noted pianist and conductor of the first half of the twentieth century. Her close friend Isadora Duncan had the honor of being the first to autograph the lid.
MARRIAGES
She was married three times: from 1910-1916, to her manager Frederick H. Toye (1887-1930), with whom she had a son, Frederick Namara Toye (1913-2005); from 1917-1926, to the playwright Guy Bolton (1884-1979), with whom she had a daughter,Peggy Bolton|Marguerite Pamela "Peggy" Bolton (1916-2003) (The names Peggy and Pamela were chosen to honor the baby's godfather P.G. Wodehouse, whose first name was Pelham); and from 1937 until her death, to landscape architect Georg Hoy (1899-1983). In between her second and third husbands, she was involved in relationships with artist and film director Harry Lachman (1886-1975) and, later, with writer Mindret Lord (1903-1955).

LATER IN LIFE
In the 1940s and 50s, she divided her time between New York City and Europe. In the early 1960s, she and her third husband retired to a secluded ranch house on several acres in California's Carmel Valley, where she painted prolifically and recorded her last album in 1968, the year she turned 80. She died on November 5, 1974, in Marbella, Spain, two weeks shy of her 86th birthday. In addition to her two children, she was survived by two grandchildren, Elizabeth Namara Toye Williams and Frederick D. 'Bud' Toye, and by five great-grandchildren, Laurel Baker Tew, Robert Baker, Victoria Toye, Frederick E.O. Toye, and Christopher Baker.