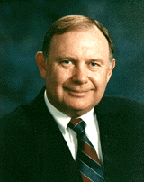 38 Year
Member
American Society
For Industrial Security
Select
Toye Corporation
Web Pages:
INDUSTRY FIRSTS
First PC System















To our many customers and friends.....
May 10, 2002
After devoting the past 40 years to the founding and building of the Toye Corporation, I've decided it's time for new energy and a renewed commitment to a very competitive and demanding business. I want the company's legacy perpetuated, and I want all our customers and employees to be assured that the company will continue to grow and remain a vital player in the Access Control and Parking Industries.
New ownership with CEO/President Gordon Morris, keeps that legacy in good hands as he brings his 30 years of experience in this industry to the table. It was important to me that the company go to someone with a proven track record, and who would be committed to the same principles that have made Toye Corporation strong.
It has been my pleasure to be involved with so many Toye Corporation end users around the world, and especially the family of employees who are responsible for its success.

Best regards,

Bud Toye